Test Your Knowledge of "The Professor"
By guest columnist Dave Campbell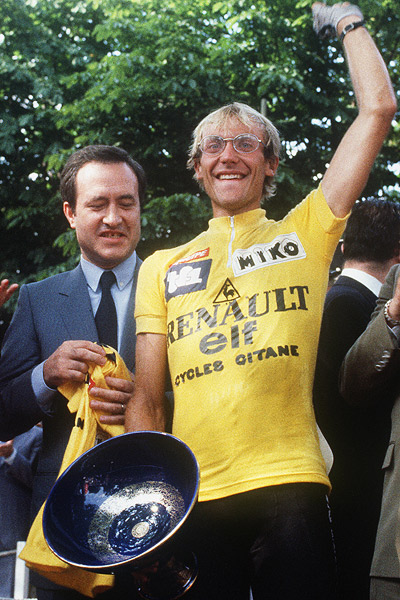 An amazing rider of courage, style, and panache, Frenchman Laurent Fignon has left us too soon, passing away on Tuesday, August 31st after an egregious battle with cancer. A rider who really only had a few peak years due to injury, when he was ON he was ON. Capable of winning short or long stage races, mountains or flat, Classics of all variety, he was a Campionissimo. And, as a coach told me so memorably when I was a junior, he ALWAYS, ALWAYS LOOKED COOL!!! Sadly, his career was as abbreviated as his life. Struck down by cancer at only 50 years of age, he had the courage to not only write his life story but ask the tough questions near the end. Did his use of performance enhancing drugs play a role? No one can know. Raced with his heart and no regrets, lived that way to the end. He left us with stunning images, memories, inspiration, and performances…that much is clear!
Let's celebrate and remember…THE PROFESSOR
QUESTIONS:
Q1. Only two riders have ever won the Triple Crown, Eddy Merckx (1974) and Stephen Roche (1987). Precious little has been written about how close Fignon came to ALSO accomplishing this feat! When? HOW CLOSE?
Q2. Laurent Fignon won all of the following Classics except: Fleche Wallone, Milan San Remo, Paris-Tours, Paris-Camembert, Gran Prix des Nations. BONUS: Describe the circumstances of his near win in the "one he missed"!
Q3. Fignon triumphed in ALL of the following stage races EXCEPT one: Tour de France, Criterium International, Dauphine Libere, Giro d' Italia, Ruta Mexico, Tour of Holland (now the Eneco Tour Benelux).
BONUS: Name all the major stage races where The Professor won a stage!
How many did you answer correctly? Let's have a look...
ANSWERS:
A1. 1989. Fignon won the Giro in front of Flavio Giuponni and American Andy Hampsten then went on to place second in that famous Tour de France to American Greg Lemond by the precious EIGHT seconds. In the Worlds Road Race, then contested in August in Chambery, France he attacked out of the lead group of six with one kilometer to go, only to have Lemond chase him down, catching him at 400 meters to go. WOW. WHAT A CHAMPION!
A2. He did NOT win Paris-Tours (then Creteil-Cheville) in 1982 DESPITE being over a minute clear with 10 km left to race and storming to what seemed a certain victory. He broke his bottom bracket spindle (A Campagnolo Super Record Titanium model) suddenly and abruptly and found himself dramatically and violently dumped onto the tarmac! This failure prompted Campy to sell Super Record PRO grouppos (no titanium spindles in either BBs or pedals) in coming years and to put all Pro riders onto steel spindles (Nuovo Record level components).
A3. The Dauphine was the only one he didn't win, although he did win a stage there in 1986, part of his "lost years" (1985 to 1988) impacted by injury.
BONUS: Tours of France, Italy, AND Spain. Paris Nice, Tirreno Adriatico, Criterium International, & the Dauphine Libere. In other words, every major stage race in the world save the Tour de Suisse and the Tour Pays Basque.